Welcome To Mama's Custom Creations
Mama's Custom Creations is dedicated to providing our customers with a unique keepsake as a remembrance of their departed loved one, an incredible breastfeeding journey, or a remarkable occasion.
Explore Mama's Custom Creations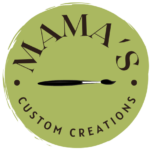 Making your keepsake
dreams come true!
"She made a custom breast milk necklace for me and i LOVE it. It turned out exactly like I had imagined. She even sent me a video of how she made it. She shipped it out to me immediately and was so helpful and friendly during the decision making process (i was very back and forth and unsure of what i wanted lol). I am so happy with this and would definitely recommend any of my breastfeeding friends to trust her with such a special gift"
"Amazing process! Beautiful ring! Thank you so so much! Highly recommended 5/5"
"I ordered two breast milk rings for my sisters for Christmas. Worried I wouldn't get them back in time she had me send their milk so, when the rings got there all she had to do was put them together! She was so helpful and answered every question I had! (Even the dumb ones😂) She does amazing work, her customers service is excellent, and I will 100% be ordering a ring for myself!"